Trained chefs Olia Hercules and husband Tom fire up the coals to create an adventurous barbecue of Ukrainian and Thai-infused dishes for inquisitive adults and children alike
What was the occasion?
We rarely need an excuse for a barbecue, since my husband Tom and I are both chefs – we met working at London restaurant Ottolenghi three years ago – and we both adore grilled foods. But on this occasion it was my 29th birthday. We have a 14-month-old boy, Sasha, and lots of our friends have young children too, so we took advantage of the weather and had ourselves a little party. There were six kids in the garden that day – a baby, three toddlers and two children over five. It was a pleasant sort of chaos, but I was quite relieved to be able to pack Sasha off to bed at 7pm so I could relax!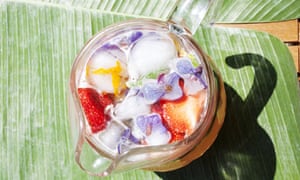 What was on the menu?
I am originally from Ukraine and Tom is from northern Thailand, so our get-togethers often have an international flavour. Naturally there are always lots of Thai and Lao themes. This time we laid on some grilled mackerel and barbecued squid with nahm jim (a tasty hot-and-sour Thai chilli and lime sauce) and nahm dtok (grilled beef). Side dishes included lobio (a Georgian bean salad with a coriander and fenugreek pesto) and a big salad with borage flowers. But the centrepiece was another Georgian dish called tabaka – a spatchcocked poussin, backbone removed and butterflied, weighted down with a heavy skillet and cooked in lots of butter and garlic. That was served with tkemali – a plum and paprika sauce from Georgia. The tkemali and lobio pair beautifully with the poussin.
To drink, we had gallons of homemade gooseberry, elderflower and lemongrass cordial, with added cucumber, mint, strawberries and lemongrass for that south-east Asian taste. The kids loved it (and a dash of prosecco made it a hit with the adults too).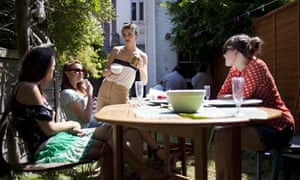 What did you talk about?
We talked about the theatre, education in the UK, what it means to be a working mum, and kids and food. Sasha is turning into a huge food fan – he seems to eat anything from raw lemongrass to chicken gizzards (a traditional first dish for infants in Ukraine). Most of my friends favour the baby-led weaning process, where at the end of breastfeeding you let the baby learn to feed itself – in other words, no gross purees, just the same food adults eat, minus the salt and chilli! I've always wanted to make people aware that kids don't have to be fed blended broccoli and chicken. Given half the chance they can enjoy anything!
Tkemali
This plum and paprika sauce is normally made with green plums and is very tart and spicy.
4 plums, stoned and halved
1 garlic clove, crushed
1 tsp paprika
½ tsp cayenne pepper
100ml water
1 tbsp caster sugar
1 tbsp coriander leaves
1 tbsp dill, chopped
1 Place the plum halves cut side down in a saucepan, add 100ml of water, cover with a lid and boil until the plums start to soften.
2 After about 10 minutes, mash them with a fork, add the garlic, paprika and sugar, and season well. Cook with the lid off for another 5 minutes or until thick and syrupy. Stir in the coriander leaves and dill before serving.
Poussin tabaka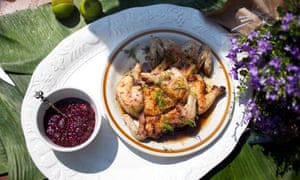 My mum taught me how to cook chicken tabaka (the name comes from Georgiantapaka, a special lid used to cook this dish). The tabaka cooking method results in perfectly crispy skin and beautifully moist flesh.
Serves 2
2 poussins
4 garlic cloves, grated or crushed
50g butter
1 tbsp olive oil
Salt and black pepper
1 Spatchcock the poussins by cutting through the backbones and flattening them with the palm of your hand, then rub with garlic, salt and pepper.
2 Heat the butter and oil in a large heavy skillet. Cook the poussins cut side down first. Then flip them and cook skin-side down for 5 minutes on a medium heat.
3 Lower the heat and put a cartouche (paper lid) over the poussins, followed by a smaller frying pan on top. Weigh it all down with something heavy. Cook for 20 minutes on the lowest possible heat.
Nahm Dtok (Isarn grilled beef salad)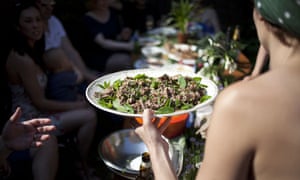 This dish literally means "falling water" and refers to the beads of meat juice that form on a steak during grilling. Once those droplets appear on one side, the steak should be turned.
Serves 2
350g rump steak
Juice of ½ lime
½ tbsp fish sauce
20g basmati rice
1 tsp chilli flakes
½ red onion, thinly sliced
1 small bunch of mint, leaves picked
1 small bunch of Vietnamese coriander, leaves picked
1 small bunch of Thai basil, leaves picked
2 lemongrass stalks, thinly sliced
4 lime leaves, thinly sliced
1 Rub 1 tbsp of vegetable oil all over the steak and season with salt and pepper. Heat a griddle pan until very hot, then fry the steak for 4 minutes on each side for medium rare, or longer if you want it well done. Wrap in foil and let it rest for 10 minutes.
2 Make the dressing by mixing lime juice with the fish sauce. Taste to check it's the perfect balance of salty and sour.
3 Place the raw rice in a frying pan on medium heat and fry until golden brown. Grind the rice with the chilli flakes in a pestle and mortar or a spice grinder. Set aside.
4 Slice the beef very thinly and toss in half the dressing, then layer with the rest of the ingredients and drizzle over the remaining dressing. Season the adult version with ½ tbsp ground toasted rice and chilli flakes.
Olia Hercules is the recipe developer at The Recipe Kit, a chef, food writer and now a regular contributor to Cook. She is author of Mamushka: Recipes from Ukraine and Beyond.